Reducing emissions and enhancing ecology on Auckland's busiest cycleway
13/07/2021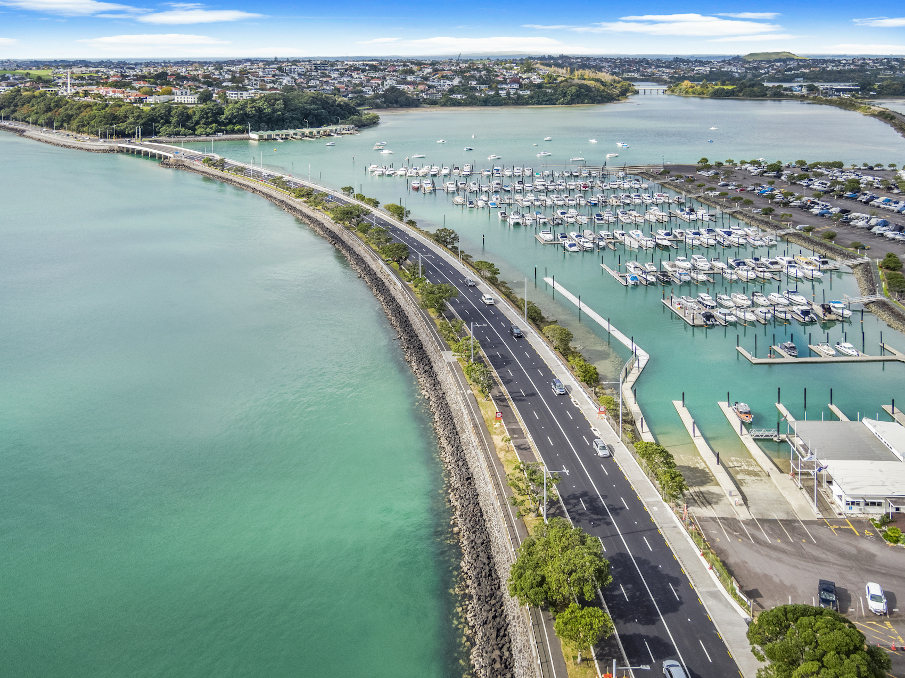 Context & challenges
Designed to increase connectivity and safety for cyclist, pedestrians, and drivers, this project provides a 2.34 km bi-directional off-road cycleway on the northern side of Quay street to Tāmaki Drive in Auckland. Tāmaki Drive is a busy road corridor with over 30,000 vehicles per day and is also Auckland's busiest route for cycling, averaging more than 1,500 trips per day.
The new cycleway required a new road configuration, including pavement widening and a new pedestrian bridge adjacent to the existing Point Resolution Estuary Bridge.
The tender for the project included a method on how the contractor would deliver social, economic, and environmental outcomes at no cost to Auckland Transport under the tendered price.
Solutions
Downer indicated strong willingness to identify, target, and track sustainability benefits, piloting its in-house sustainability framework, the Downer Sustainability Standard, during delivery. The framework provides a structured approach to identify, target, and track key sustainability outcomes and is modelled on the Infrastructure Sustainability Council of Australia (ISCA) IS rating system.
Early in the project, Auckland Transport and Downer held a Materiality Assessment workshop to identify initiatives in priority areas and set specific targets from MCOS (Minimum Conditions of Satisfaction) to stretch. Priority areas included greenhouse gas emissions reduction, focusing on energy and materials used in construction, and ecological enhancement.
Key initiatives include:
Replacing diesel generators with power from the grid to decrease CO2 emissions and cost
Replacing in-fill for a raised section of pavement with layered asphalt to reduce CO2 emissions, construction duration, traffic impacts, and cost
Preserving Pohutakawa trees within the project boundaries and planting new natives to enhance the ecological value of the corridor.
Key outcomes
Sustainability initiatives implemented on Auckland's Tamaki Drive cycleway have achieved a reduction in noise, traffic, air pollution, and resource use, and a total greenhouse gas (GHG) emission savings of 32.67 t CO2e over the 18 month construction period. The initiatives have also achieved cost savings of approximately $35K (2.5% of contract value).