Auckland's downtown waterfront makeover
13/07/2021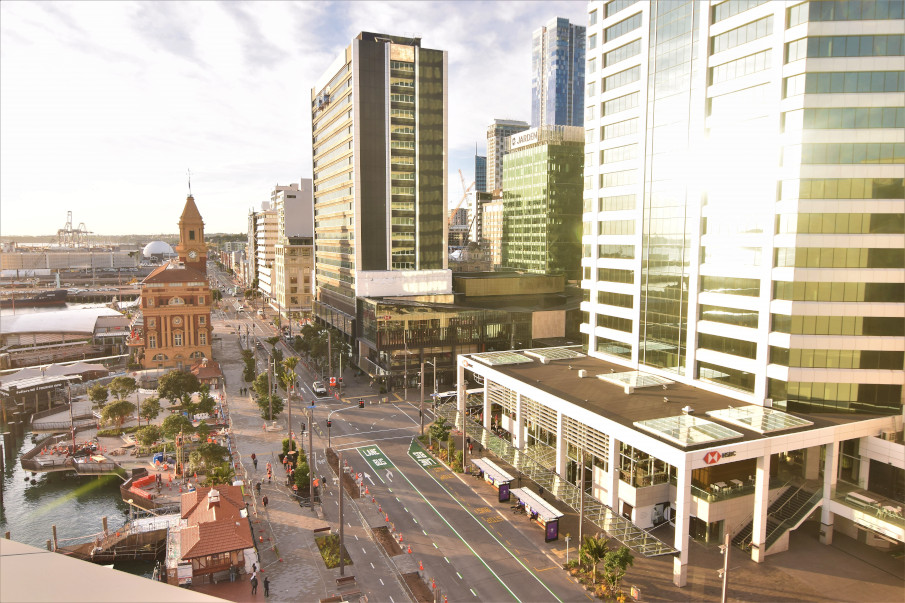 Context & challenges
The cornerstone of New Zealand's largest concentrated urban transformation in history, Auckland's Downtown Programme has brought to life Auckland Council Group (ACG)'s vision of "a generous and welcoming destination along the water's edge that is recognisably Tāmaki Makaurau".
ACG and construction partners (Downer NZ, HEB Construction, and Soletanche Bachy) had just over two years to transform Auckland's waterfront and lower downtown area - an ambitious timeline driven by the 36th America's Cup and other international events scheduled for 2021.
The $250M construction programme included a series of high-profile harbour-edge projects delivered via an accelerated construction programme.
Te Wānanga (Downtown Public Space)
Quay Street Strengthening – seismic stabilisation of Quay Street to protect the street and utility services beneath it
Quay Street Enhancement – streetscape enhancement to attract more people to the waterfront
Ferry Basin Redevelopment – creating six new berths as a first step towards modernising Downtown Auckland's ferry infrastructure
Galway Street Enhancement – streetscape enhancement in line with the development programme for Britomart Precinct
Lower Albert Street bus interchange – a new and better functioning bus interchange, enabling better transfers with rail and ferry.
A quarter to a fifth of Aucklanders interact with downtown or the water's edge on a weekly basis and the area is home to high density commercial and office buildings, residential and visitor accommodation, retail, restaurants, and bars. It is also a key transport hub with thousands of commuters, cyclists, and tourists (including 15,000 cruise ship visitors pre-COVID) accessing the area daily.
Adjacent developments, including the City Rail Link project, were under construction at the same time, with circa $1.5B of construction activity in approximately 12 hectares of space in the CBD. This complex environment required significant engagement to mitigate impacts to the Downtown community.
Solutions
In mid-2018, a communications and engagement team was assembled to engage with a large number of stakeholders on design and construction issues. The team's focus was addressing stakeholder concerns prior to consent lodgement and minimising construction impacts through early engagement and an innovative Development Response approach.
The Programme team embedded a Development Response approach into the delivery structure - a first for ACG that has since been replicated on other complex infrastructure projects. This approach integrated the resource consent, stakeholder engagement, traffic management, and social and cultural outcomes workstreams, resulting in optimal stakeholder outcomes, while de-risking the consenting process and construction programme.
Development Response initiatives were identified through an Early Contractor Involvement period and included in the Target Outturn Cost to ensure adequate funding was allocated for engagement activities.
Key outcomes
Through a comprehensive Development Response approach, we made it easy for people to participate in decision-making processes, consistently demonstrating public participation values by implementing a tailored approach spanning the entire IAP2 engagement spectrum. Rather than just engaging with the people who self-selected themselves as an interested party, we proactively sought and facilitated community and stakeholder involvement. This inclusive approach was enabled through a well-resourced, experienced, and empowered team. It also allowed us to co-design bespoke interventions at each interaction.
The success of our engagement strategy can be measured by the success of our consenting strategy, balanced media attention, and zero complaints escalated above the Programme team during construction. Despite the impact of construction and COVID travel restrictions on visitor numbers, retail spend in the Downtown area was up by 2.3%, compared to -5.3% in the rest of the CBD. Overall, our engagement process was vital to achieving ACG's vision of an accessible waterfront that reflects Auckland's place in the world, while enabling events such as AC36 and business activity to continue.