Facilities Management - OSM team wins major Parks contract
20/03/2021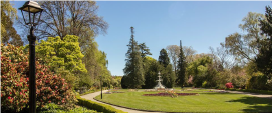 Our OSM (Open Space Management) team has renewed the parks maintenance contract in Waitaki District.
Our improved approach and understanding of seasonal variances is what got us across the line, with the local District Council satisfied that delivery expectations will be met.
What this means focus is increased employment opportunities in the local community, with over twenty jobs available. Services include, but are not limited to, grass mowing and sports field maintenance, gardens, tree and hedge maintenance, irrigation and playground maintenance.
Downer NZ's General Manager of Facilities Services, Grady Cameron, says, "Renewing our contract with Waitaki District Council is great news for Downer's Open Space Management team. We've made a big investment in plant recently to increase speed and contingency. This includes changing from tractors to wide-area mowers so we can get around faster, plus, we've moved to electric equipment which makes us more sustainable. We look forward to maintaining great open spaces for the community to enjoy."
For more information see the press release.
Downer Open Space Management have a reputation built through having great people, access to first class plant and equipment along with leading edge technology that allow us to deliver to the highest standards across New Zealand. Our teams are professional, focused on delivery of best practice on Parks Maintenance/Horticulture services to our clients and the members of the public.