Providing waters services to 400,000+ households with Watercare
11/05/2022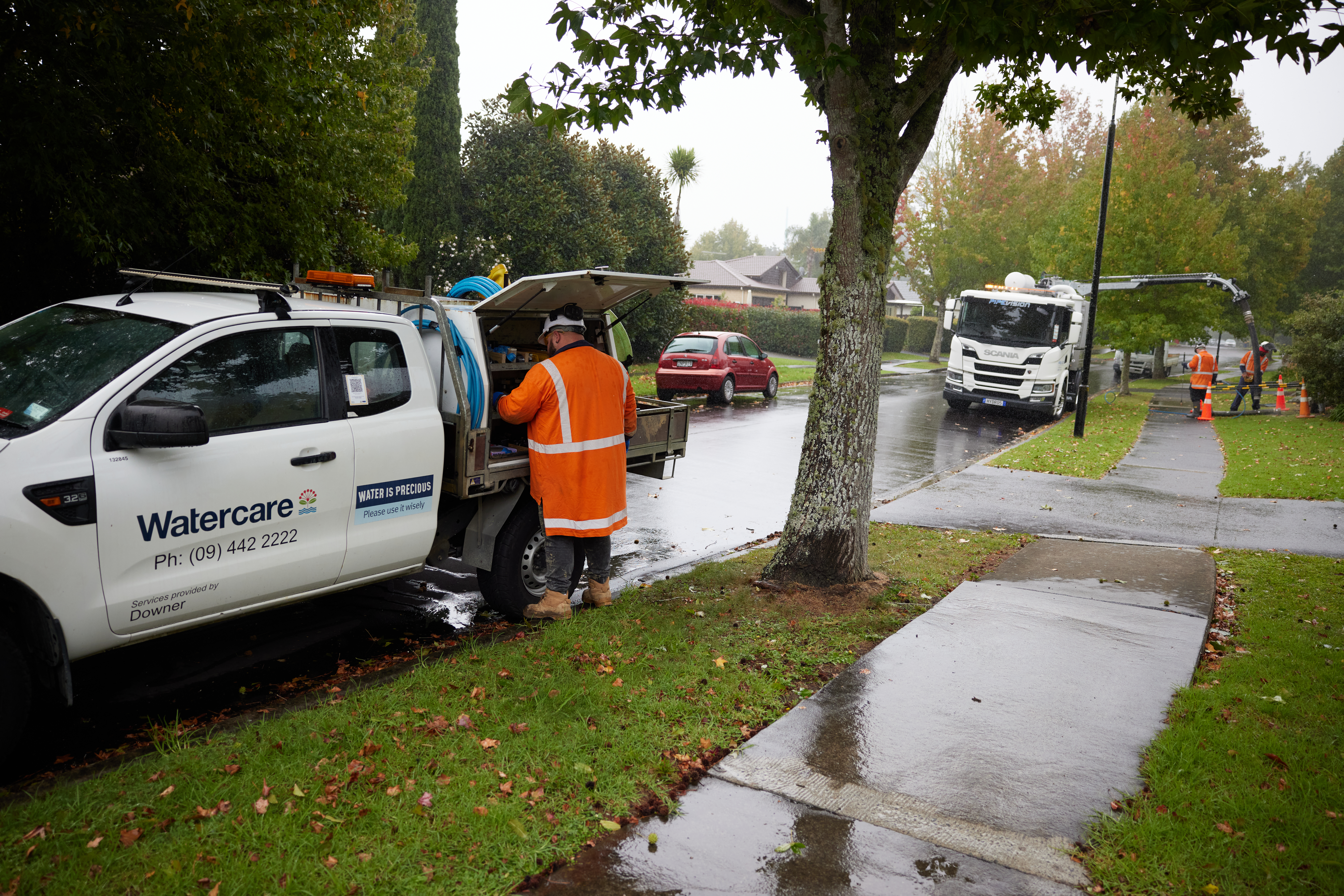 Building on our longstanding relationship with Watercare, in 2021 we entered into a collaborative partnership for 10 years and have worked closely together to deliver Water and Wastewater reactive maintenance and planned works, including meter replacement and pipe renewal programs.
Downer has provided water services in the northern Auckland region since 1991.
This contract is the largest in New Zealand for reticulation works maintaining the water, wastewater and complex assets across a large geographic area of North Western area of Auckland. Complex assets include wastewater pump stations, water reservoirs, booster stations and pressure reducing valve (PRV) chambers.
Downer has 120 working to deliver the following services:
24/7 and 365 days a year, service delivery and attendance.

Water and wastewater network and treatment plant operation and maintenance (including mechanical, electrical and instrumentation); urgent response to faults; repairs and all routine and preventative maintenance activities and minor capital works.

Asset renewals and upgrades including design as required.

We currently attend or respond to over 45000 services requests per year
Challenges
To ensure increased productivity and resilience, we have regional-based employees working on four maintenance contracts for the Auckland Council. For example, our drainage team works across Watercare's wastewater and also Healthy Waters Stormwater contracts and the mechanical and electrical team works across the Watercare Maintenance contract and also Closed Landfills and Healthy Waters Small Waters contracts to ensure increased productivity and resilience.
Meeting all health, safety, and environmental key performance indicators (KPIs) gives us the opportunity to access renewal programmes and manage our staffing levels. With a larger suite of jobs to optimise our resourcing and lift utilisation, we can provide a training programme to upskill existing employees for the benefit of both Downer and the New Zealand water industry.
To help manage the ageing network, the following activities were put in place:
Asset identification and condition assessments

Asset management planning

Burst frequency analysis

Smart metering

Infiltration and inflow management

Managing and assessing renewal programs and planned works outside of peak times

Cadet and CSO programs split over different skill level requirements for different jobs

Pipeline Rehabilitation
Downer's collaborative partnership with Watercare brings together a wide range expertise in the new Nerve Centre, for example Engineers, Faults, Customer Liaisons, Water Quality, Environmental Scientists. The Nerve Centre provides direct access the right parties for effective outcomes. All of this provides an improved customer experience and makes us industry leaders.