From Kayak Guide to Traffic Management Planner
21/04/2022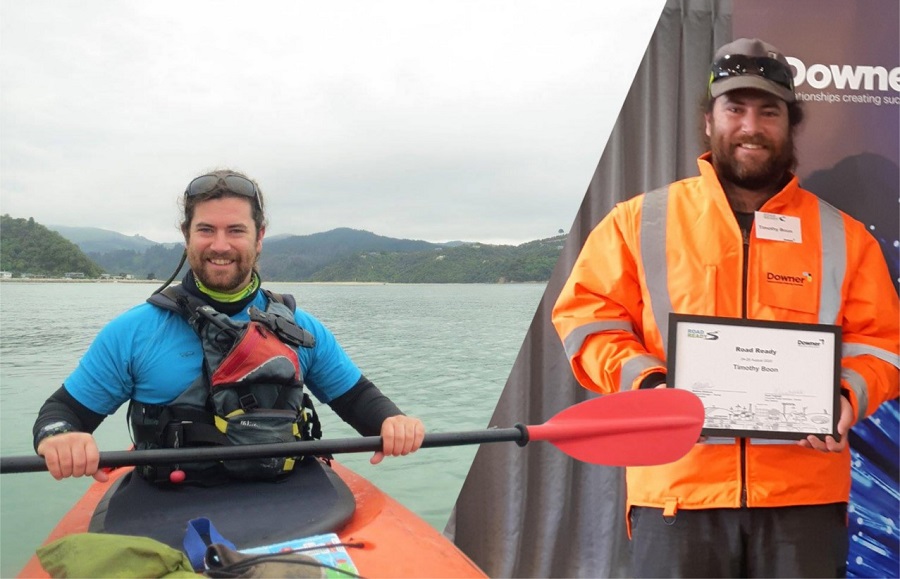 Three years ago, Tim Boon was working as a Kayak Instructor in Northern Queensland, where he spent his day avoiding jellyfish, sharks and wrangling snakes and spiders. After a season, he made the move to Nelson where he took on the role of kayak guide in the Abel Tasman.
With a two-year diploma in Outdoor Construction and Guiding, and not one to say no to an adventure, at the end of the New Zealand season, Tim had planned to kayak in Norway for six months, and then dog sled for the rest of the year, but when COVID hit at the end of 2020, his travel plans began to unravel.
"It was a bit unfortunate, because I had everything lined up to go to Norway to work as a kayak guide, and then COVID happened, and everything shut down." With a quick change in plans, he relocated to Christchurch to work out his next career move. "My friend knew someone who worked for Downer in Traffic Management and he told me he was quite enjoying working as a Site Traffic Management Supervisor. I always kind of thought if I can't do something, I'll be a stop-go person, but I didn't know how to get into it."
Since joining Downer through their Road Ready Programme in Nelson, Tim has quickly moved up the ranks. He passed his Traffic Management Planner Assessment on the first go and is now the third fully qualified TTM Planner in the Tasman region. "I never thought I'd be in this position, if you asked me a year and a half ago when I first started at Downer, I thought I would stay working as a Traffic Controller, as I had no idea that there was a career pathway in Traffic Management." As a Traffic Management Planner, Tim is given a plan of the site he is in charge of from his supervisor, which he will then talk through with the client. He uses Rapid Plan, a computer-based programme to work out all the traffic logistics, including where pedestrian's and the traffic will go.
"I tend to show a draft and say hey is this kind of what you're thinking, and then they might point out something I've missed and I can change it or they might have something else in mind and sometimes you can't do it."
He credits the support of his colleagues and his background in operations for the easy transition into his position as a TM Planner. "Being able to chat with people, that's probably hands down one of the best things to have in STMS and in TM because it's all about dealing with people, with safety being a key consideration as well." As he reaches 18 months at Downer, Tim says he has felt greatly supported in his role and is certain he wouldn't have got as far as he has without his colleagues.
"The other supervisor and the other planner, they have supported me so much, even though they threw me in the deep end with a lot of things, you could call for help and they would be there. Even the senior managers at Downer, you feel like you can have a chat with them at any time. It creates a great work environment and culture, and I'm all about that."
Visit our people site for more information about opportunites at Downer New Zealand.