Gisborne Storm Emergency Response
11/05/2022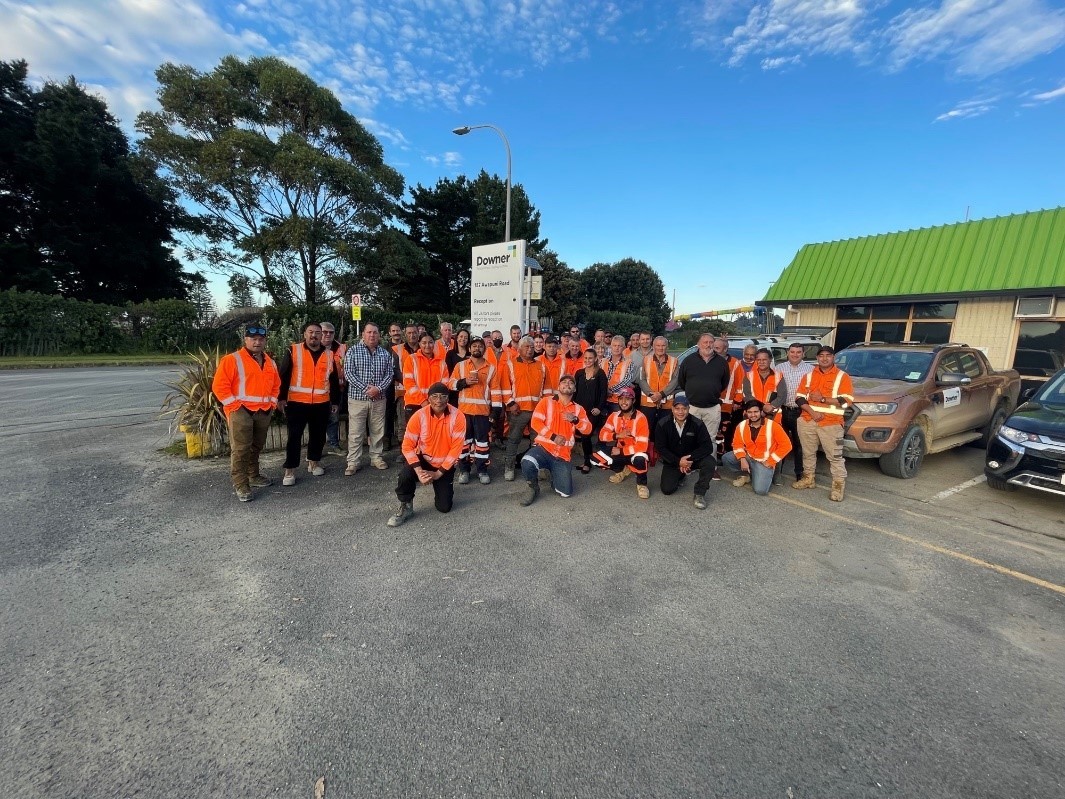 On 23 March 2022, a State of Emergency was declared in Gisborne, after the region experienced a serious 100-year weather event. The weather event caused significant flooding and damage to the city's roading and telecommunications infrastructure. Downer's Transport and Telecommunications team, quickly mobilised, working day and night to help restore essential services to the community.
The fibre and copper cables that support internet, cellular and voice calls are often laid adjacent to the carriageway, and the damage to these meant that emergency service calling was unavailable, and this had a serious impact on repairs.
To support the restoration of services, Downer's Telecommunications team quickly mobilised to get temporary solutions in place, to ensure communication remained available and allow infrastructure repairs to be completed by Downer's Transport team, as well as Civil Services.
The Telecommunications team worked up the East Coast to repair Chorus' four main exchange sites, along with approximately ten cabinet sites, four Vodafone mobile sites and three mobile sites for Spark.
Meanwhile, the Transport team worked hard to repair severe damage to Bridge in Tokomaru Bay, which connected the main city. The team also had to manage and divert traffic to complete repairs, all while keeping the community safe.
There were many challenges our Telco and Transport teams had to work through during the flooding. The collapse of the Bridge at Tokamaru Bay, on State Highway 35, caused a lot of accessibility issues for locals, as there were minimal detour routes. The Bridge also split in half, which cut off the community from both sides.
There was also a shortage of resources in the community, and as State Highway 2 and 35 had to be a priority, remedial work on other damaged areas was unable to be actioned until later. The lack of resources also meant there were very few places the team could dispose of any waste during the clean-up.
While the Transport team were supporting the clean-up, the Telco team also had to work through challenging stormy conditions, restoring land slips, fallen trees and damaged cables, all while working with limited visibility. The lack of visibility also made it exceedingly difficult for our teams, who had to use helicopters to refuel generators twice daily at cellular sites that were difficult to access. Due to poor visibility conditions over the weekend, the techs were unable to fly and missed a refuel visit. Cellular services were also lost, and the local Power Authority had limited communications, which impacted their ability to continue to replace storm impacted poles and lines.
The Telecommunications and Transport teams delivered exceptional emergency response services through incredibly challenging conditions, all while keeping the surrounding residents safe.
The Telecommunications team put in several temporary solutions to get land line coverage up and running, and more importantly, to get residents and emergency services connected to the telecommunications network.
Fifteen Telco team members, including service technicians from Gisborne, Napier and Whakatane worked over three days to put in temporary communication poles and fibre and copper cables to re-join them to the communications network. The team are now working to put permanent solutions in place.
In Transport, Downer collaborated with several local subcontractors (including Blackbee Contractors Limited), forestry companies and boundary partners (caretakers of the roading network) to conduct various remedial works. This allowed the team to have access to the large roading equipment that was required to clear the debris from the storm and meant that the subcontractors were able to get to the sites very quickly.
Thanks to Transport's strong presence in the community, Downer had lot of support from local subcontractors, New Zealand Police, and landowners in Tokamaru Bay.
The Transport team's huge effort to support the community meant the Bridge was completed eleven days ahead of schedule and thanks to our team's hard work, is now open to all vehicles.
The Telco team's incredible work meant that the main telecommunications services were restored with temporary solutions within three days, communities were able to stay connected and more importantly, Emergency response services were able to effectively communicate with each other.
Because the team had risk assessed the roads earlier and this risk was highlighted to the council, the Gisborne team received funding for thirteen roads. They were also given a budget for urgent drainage on local roads, which they wouldn't have received, had they not completed the risk assessment earlier.
Gisborne Regional Manager Nigel Pollock spoke to Radio New Zealand about the team pulling together and rebuilding the Bridge 10 days ahead of schedule - check out the interview here.