Contract to upgrade Seghe and Taro runways signed
22/10/2021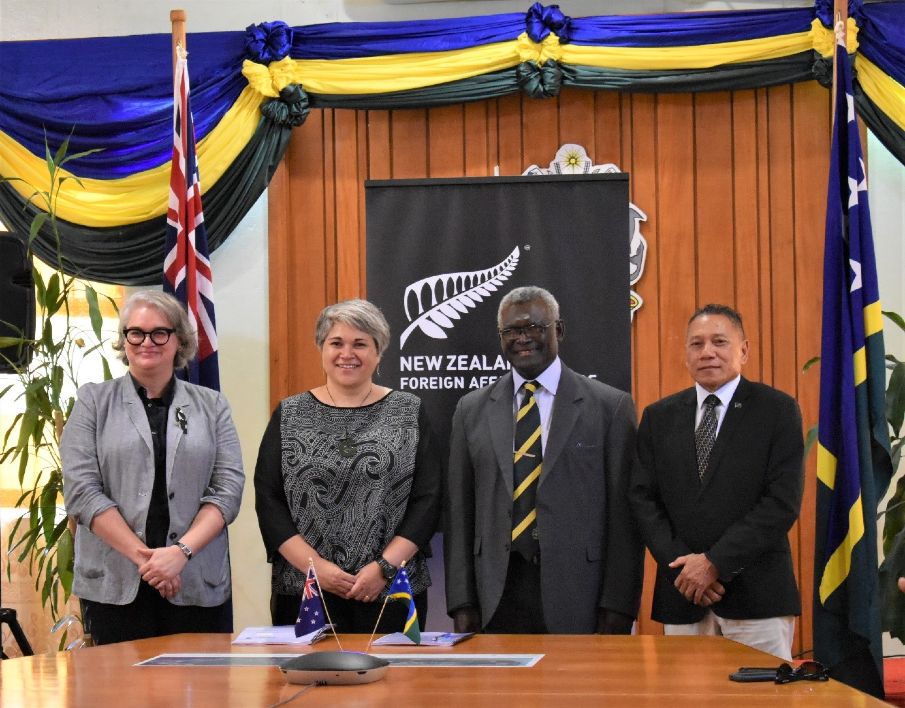 Improvements are set to commence on two Solomon Islands runways, following the signing of a significant construction contract between the New Zealand Ministry of Foreign Affairs and Trade (MFAT) and Downer New Zealand, witnessed by Solomon Islands Prime Minister Hon. Manasseh Sogavare in Honiara earlier this month.
Downer have been engaged to upgrade the runways in Seghe and Taro to sealed all-weather strips — complete with ground lighting — to ensure safer, more reliable, and more economical flight operations.
"This is a significant milestone in realising an important infrastructure priority for Solomon Islands Government and represents an exciting new phase in New Zealand's long standing and multifaceted partnership in the aviation sector in Solomon Islands," said New Zealand High Commissioner to Solomon Islands Georgina Roberts, "by working in a spirit of manaakitanga and kotahitanga we have been able to overcome some of the obstacles that COVID-19 has presented."
​​​​​​​"The support of all Ministries has been astounding, and their continued support will make this a success. It is humbling to be back in Solomon Islands, and the team are looking forward to deliver this project to enable the Solomon Islands to thrive," said Downer New Zealand Executive General Manager for Transport Craig West.
New Zealand recognises that through supporting safer, more affordable, and more reliable air services, the upgrades in Seghe and Taro will contribute to strengthening and diversifying the local economy — enabling greater prosperity, access to core services, and more equitable distribution of benefits. The work links to other core components of New Zealand's partnership with Solomon Islands, including in other areas such as tourism.
"The Government of Solomon Islands is proud to witness yet another tangible milestone of progress in aviation in Solomon Islands" said the Prime Minister of Solomon Islands, Manasseh Sogavare. "This project has come this far through the culmination of much hard work over the past few years from staff in NZ, Solomon Islands, and elsewhere – labouring under a common purpose which speaks to the importance of this sector in Solomon Islands"
The upgrades will be co-funded by the Governments of New Zealand, Solomon Islands, and Australia, with a combined total commitment of more than SBD $230 million.
​​​​​​​Work on the runways will begin in the last part of 2021, with extraction and processing of the aggregate and early procurement of key materials and equipment. Communities will be a critical component of the project, and there will be opportunities for local business and employment. Despite the challenges of COVID-19 the partners in this project remain focused on achieving the upgrades within an ambitious timeframe.