Asset management is one of Downer's core capabilities. We have a commitment to create, grow and sustain value to our customers across a broad cross-section of assets including transport, utilities and facilities.
Utilising asset and data management to develop leading solutions through the cycle of creation, operating, maintaining, upgrading and disposing of assets, to ensure cost effective investment and sustain outcomes for customers.
To ensure that we are at the forefront of service excellence, providing cost effective investment and sustained outcomes for customers, Downer set up an Asset Management Services (AMS) group. It focuses on delivering value to customers through people development, business processes and supporting technology solutions. This group is involved with the wider asset management sector within NZ to help ensure that we contribute to and interact with sector leading asset managers.
Governance and Strategy
Asset Management within Downer is mandated through the asset management policy that states our commitment and expectations for the effective delivery of asset management of Downer assets and those we manage for our customers. Supporting this policy is the Downer Group, Asset and Data Management Office (ADMO). ADMO promotes best practice and continuous improvement in asset management and data analytics to improve lifecycle management, reliability, return on capital and deliver better outcomes for customers.
ADMO includes representatives from each of Downer's operational areas – New Zealand, Australia and Spotless, who meet monthly to collaborate and share ideas and initiatives across the business.
Standardisation across the Downer Group is achieved through The Downer Standard (TDS). TDS delivers consistency in our policies, standards and procedures across the Downer Group. Asset Management within TDS is delivered via the Asset Management Lifecycle (below), which aligns to ISO 55001 and provides and easy interface into the standards related to asset management.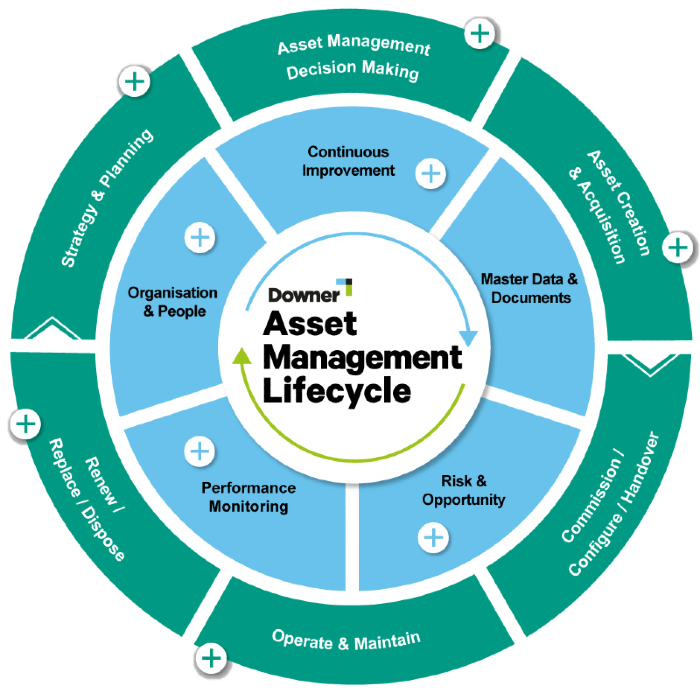 Within Downer New Zealand, all our asset management business processes and procedures are mapped to the lifecycle. This allows our asset management professionals and customers to engage with documents interactively and deliver asset management decisions in a consistent way. TDS allows us to share best practice, facilitate greater cross-sector collaboration and improve our customer centricity.
The establishment of an asset management policy and The Downer Standard asset management lifecycle system demonstrates the commitment that Downer has to the delivery of excellence in asset management.
Whole of Life Focus
"The asset management discipline draws from both business and financial management and also from technical, engineering, operations and maintenance management" (Institute of Asset Management)
At its core, infrastructure asset management provides merit-based, data-driven insights and analysis to support infrastructure management decision making to meet community needs. This results in capital and maintenance investment strategies that support communities and enhance wellbeing.
To deliver asset management successfully requires an asset management culture throughout the life of the asset from creation, operating, maintaining, upgrading and disposing of assets. This is achieved by the whole business contributing to the management of the lifecycle ensuring the assets fulfil their required function to meet the desired outcome of the asset owners.
Our teams are experienced specialists in the various tasks that contribute to successful asset management including:
Asset data collection – certified practitioners, underground services locators
Asset condition monitoring – condition inspections, drones surveys, video AI, 3D lidar
Asset information management – certified database administrators, data quality standards
Asset valuation – international financial reporting standards, depreciated replacement cost
Data mining – business intelligence, business analytics, SQL scripting
Predictive analytics, asset life cycle modelling – deterioration modelling
Asset management decision making - development of multi-year asset renewal programmes and management of Maintenance Intervention Strategies
Asset management plan preparation and reviews
Training and development
Risk and opportunity
Continuous improvement- AM Maturity, Kaizen