Northern Network
16/05/2022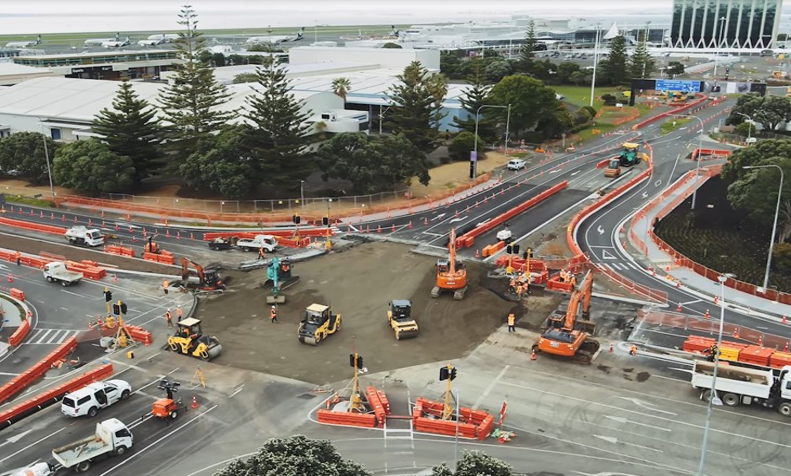 The Northern Network Transportation Project (NNTP) was established to future proof George Bolt Memorial Drive (the northern access to Auckland Airport) to prepare for the next thirty years of predicted traffic growth for Auckland International Airport. Downer tendered for the project in early 2019.
The scope of the contract included widening over a kilometre of George Bolt Memorial Drive to a minimum of three lanes in each direction, construction of a three lane international terminal exit road, upgrades to three signalised intersections on George Bolt Memorial Drive, construction of new connector roads, and upgrades to several existing roads within the northern road network. Works included new storm-water services, full depth pavement construction, associated road marking, low, medium and high voltage utility ducts, street-lighting, kerbing, a shared path network and extensive landscaping works.
Challenge
With a traffic count of over 100,000 vehicles per day, one of the key contract requirements was to maintain two lanes in both directions on George Bolt Memorial Drive, during construction of the new road pavement.
As the Tom Pearce Drive intersection is the most heavily congested intersection at the airport, the site team were required to provide access to both the Domestic and International terminal at all times. The intersection had to be fully reconstructed with a new pavement of up to 760mm in depth at tender stage. This risked close contact with existing shallow services and potential cost and time implications from having to protect and/or lower the existing services. The traffic management constraints meant that the intersection pavement had to be constructed in nine sections, which could have resulted in an extended construction period and the potential for a poor quality pavement given the number of joints required.
Solution
The team maintained two lanes in both directions on George Bolt Memorial Drive during construction of the new road pavement, to limit disruption for the public and businesses accessing Auckland Airport. Typical travel times were generally less than five minutes, with the exception of significant traffic incidents outside of our control.
EME2 asphalt, designed to be longer lasting than traditional asphalt was the preferred option for Auckland Airport, as it offered enhanced resistance to rutting and a reduced overall pavement depth and minimizing potential contact with existing shallow services. The EME2 solution was used for two out of three intersections on George Bolt Memorial Drive.
We proposed a 'Super Weekend' model which would significantly reduce the number of phases of pavement construction and enable us to complete the majority of the intersection pavement construction in a single weekend, from Friday evening to Monday morning. This saved up to seven weeks of traditional pavement construction works.
Outcomes
The asphalt pavement consistently provided better NAASRA (roughness measurement) results than the specified requirement of 50.
Falling weight deflectometer (FWD) surveys also confirmed that the pavement life of 25 years had been exceeded across the whole project, providing Auckland Airport with high quality, low maintenance and long-life pavements.
Due to the Super Weekend being so successful, the concept has been extended to works on the wider Auckland road network on our Road Corridor Maintenance.
Added value
The EME2 solution reduced overall pavement depth, risk from encountering shallow services and reduced pavement construction duration, due to elimination of a cement treated base course layer.